Productbeschrijving
MR5 ACTIV PRO LASERSHOWER
The new MR5 ACTIV PRO LaserShower is the latest addition to the MR5 Series from Multi Radiance Medical. With 200W peak super pulsed power and over 500mW mean output power, the MR5 ACTIV PRO LaserShower is our most powerful super pulsed laser yet.
The MR5 ACTIV PRO LaserShower has a high peak power and mean output power yet still remains in the safest laser classification per IEC 60825-1 , meaning there is no risk of retinal damage or tissue overheating for all skin pigmentation types. This is due to the unique super pulsing technology which releases photons in ultra-fast billionth-of-a-second pulses that penetrate deep into tissues.
Higher power also means faster treatment times and the 30cm² emitter aperture allows you to treat large areas quickly, like the low back, spine and legs. The cordless MR5 ACTIV PRO LaserShower has a rechargeable lithium ion battery that lasts up to 8 hours of continuous use for treatment anywhere, anytime, without limitations.
Clinicians have more treatment options than ever with the MR5 ACTIV PRO LaserShower. Treat with the Standard Multi Radiance Technology settings in the ACTIV PRO Mode, or switch to Blue Mode for continuous blue light at different time intervals. Use preset frequencies and times in the Priority Principle Mode to treat specific conditions, and easily access your most frequently used settings in the Favorites Mode.
Technical Specs
Laser radiation: 905nm

Broadband infrared radiation:

850nm

Visible red light radiation:

 

630nm

Visible blue light radiation: 

470nm

Laser radiation peak pulse power:

 

200W

Laser pulse duration: 

70-90 ns

Broadband infrared radiation average power: 3

00

Red light average power:

200 mW

Blue light average power:

160 mW

Radiation aperture:

30 cm²

Magnetic induction:

110±10 mT

Overall dimensions:

203x64x70 mm

Net weight:

250 g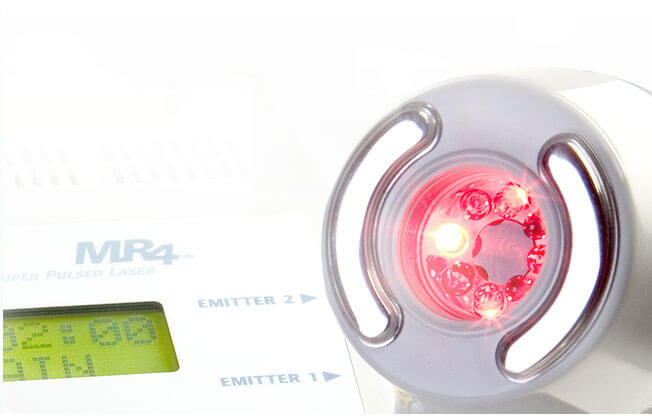 Anchored in Science: The most optimal mechanism for laser treatment, providing maximum photonic density without hazardous thermal effect.
WHAT IS TRUE SUPER PULSING?
Do not confuse the "pulsing" of continuous wave lasers with the super pulsed technology of Multi Radiance lasers. Continuous wave "pulsing" is accomplished literally by "chopping the beam", i.e., mechanically turning the laser on and off. This not only limits the power and depth of penetration offered by continuous wave lasers, it also encourages the body to adapt to its effects, limiting its treatment ability.
With Multi Radiance technology, you can super pulse up to 50,000mW of power which is more than most Class IV lasers, yet with a higher degree of safety. The laser and electronic technologies required to use super pulsed diodes are more advanced and the diodes themselves are more expensive than the continuous wave diodes. This is probably why most lasers in the North American market are low powered Gallium Aluminum Arsenide continuous wave lasers.